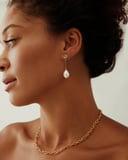 So your big day is booked and you've got your dress - now what? Well, it's time to move on to jewelry. We all know the ring is covered (re: your wedding day), but what about earrings to match your dress? A small but important detail, earrings bring an impactful touch to your bridal look and have a way of tying your shoes, dress, and veil together. If you haven't picked out any earrings yet, don't fret - you've come to the right place. We gathered a list of earrings on the market for all budgets that range from simple to standout, and we have a feeling there's a match for your nuptials.
Whether your wedding dress is strapless, has a halter top, or shows off a deep V or sweetheart neckline, we've gathered all the earrings - long, simple, statement worthy, floral, and more - that are cut out for the job. Because let's face it, earring shopping is probably the last thing on your mind amidst wedding planning.
If you're interested in finding the perfect stud or drop earring for your big day, check out the options we found in both silver and gold. From earrings made of cubic zirconia to Swarovski crystals and stunning pearls, see our favorite wedding earrings on the market ahead.