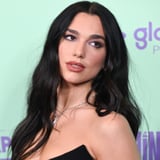 The avant-garde runways of Fashion Month 2023 cemented the idea that even the most unique objects can double as heels. And on March 16, Dua Lipa entered her own submission for the most non-conventional heels in a set of metallic teeth boots by GCDS.
During a girls' night out with model Sarah Lysander and actor Ella Jenkin, the "Levitating" singer posed in the pointed-toe boots, as well as a yellow miniskirt and a matching motorcycle jacket with SpongeBob's classic cartoon smile embroidered along the back. She styled the 2000s-inspired outfit with a white crop top, stud earrings, and a diamond statement ring.
The edgy jacket, which Lipa wore buttoned at the collar, featured a color-blocked design in lemon yellow and white. The jacket was also embellished with silver hardware depicting the designer's logo. The bright color palette continued down the star's miniskirt, which hit just above her mid-thigh. Tying the entire ensemble together, she wore a pair of knee-high metallic boots defined by heels in the shape of pointed human teeth, including a set of fangs on each shoe. Lipa beautifully complemented the boots with a faux patent leather baguette bag in a mirror design by Courrèges.
In the same photo set, Lipa shared pictures of herself in a black tube top and straight-leg jeans from Versace's fall 2023 ready-to-wear collection. As she blew a kiss to the camera, the "Potion" singer also shared a glimpse at her black fur stole, quilted patent leather handbag, and crocodile print evening gloves.
Ahead, shop Lipa's fang boots and the rest of her 2000s-themed outfit.