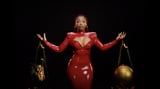 With new music comes a new style era for Chlöe. The singer wore a striking red latex gown to announce her debut album, "In Pieces," on Jan. 24. In a teaser video posted across her social media pages, Chlöe posed in the scroll-stopping dress, which featured sharp structured shoulders, a triangular chest cutout that created a sweetheart neckline, and long sleeves that extended to cover part of her hands.
The clip progressively zoomed out to show more and more of the fitted silhouette until the final frame, which revealed a mermaid-style skirt draped on the ground. Both of her arms were outstretched and holding up gold scales - one weighing a globe and the other, a giant heart with flowers.
Chlöe kept her accessories relatively low-key for the shoot, simply adding chunky silver rings and gold Defaïence hoop earrings selected by stylist Jill Jacobs. Though you couldn't see her shoes hiding underneath, we bet Chlöe chose a pair of sky-high heels, given her penchant for platform footwear. She finished the look with a chrome manicure and wore her long red locs pulled away from her face and down her back.
In 2022, Chlöe rotated through an array of bodysuits for various performances, making them her signature look for the year. Perhaps bold latex dresses will take center stage as she promotes her new music? Take a closer look at Chlöe's cherry-colored album-announcement gown ahead, and prepare for the fashion moments to come from the singer's "In Pieces" era.